With our excellent management, strong technical capability and strict quality control system, we continue to provide our clients with reliable quality, reasonable prices and excellent services. We aim at becoming one of your most reliable partners and earning your satisfaction for Milling And Grinding, Dispersion And Grinding Of Pesticides, Rotary Classifier Mill, Our corporation maintains risk-free enterprise combined by truth and honesty to maintain long-term interactions with our clients.
---
Top Quality China Medicine Jet Mill - WP-WDG System–Apply To Agrochemical Field – Qiangdi Detail:



WP part

First,Raw material feed from the feeder –the material transfer to the first 3 m3mixer for premixing, and dust collector will collect dust during the feeding process, then mixed material enter into QDF-600 jet mill for milling, the output particle size can be adjusted by adjusting different rotating speed of the classifier wheel,. After milling, material will transfer to the cyclone and dust collector on the top of the first 4m3 mixer through centripetal force of draft fan, then transfer to the second 4m3 mixer for mixing before package or transfer to WDG system.

WP system  is  a  perfect  combination  of  jet  mill  technology,  mixing technology and intelligent control technology. which is a satisfying product for pesticides to multi-mix and remix,Meanwhile, it meets environmental request that no dust during the whole process.

WDG (water dispersible granule) also known as wettable powder dry suspending agent or grain type, the raw material for wettable powder(WP) formed by granulation once in the water, can quickly disintegrated and dispersed, granular preparation form high suspended solid dispersion system.

Granulation is the core of the entire process. Granulator is the key to make sure granulated pesticides and drying process con-figured, which is based on the characteristics of pesticides, experimental data and engineering application examples, choosing rotating extrusion granulator or twin screw extruder granulator.(Add cooling water system on drive shaft section),Or screw granulator (Add cooling water system to Granulation chamber section),Or a fluidized bed granulator(Fluidized bed granulation process and extrusion granulation process is different).The requirement of moisture content of granulation is about 8-18%.Based on product characteristics and production processes, to determine the design of the process mainly consist of : kneading, granulation, drying, screening, packaging, hot air systems, dust removal system.

First, the raw material will  be transported   into 1000L Buffer,then itto ZGH-1000 vertical mixer machine by Vacuum ZKS-6 for wet mixing then transport into XL-450 extrude granulator (3pcs) through 500L distributor for wet granule , then to QZL-1300 pelletor,and to ZQG-7.5 X 0.9 Vibrate Fluid-bed Dryer  strip granules then ZS-1800 centrifugal vibration sieve for sieve to get required size granules.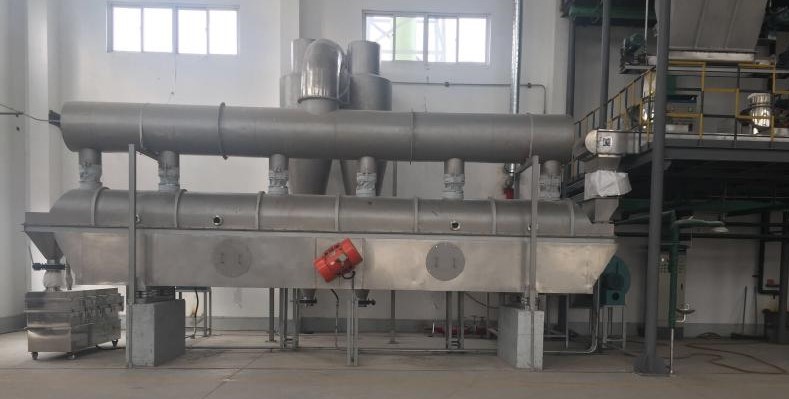 Vibrating fluid bed dryer for chemical powder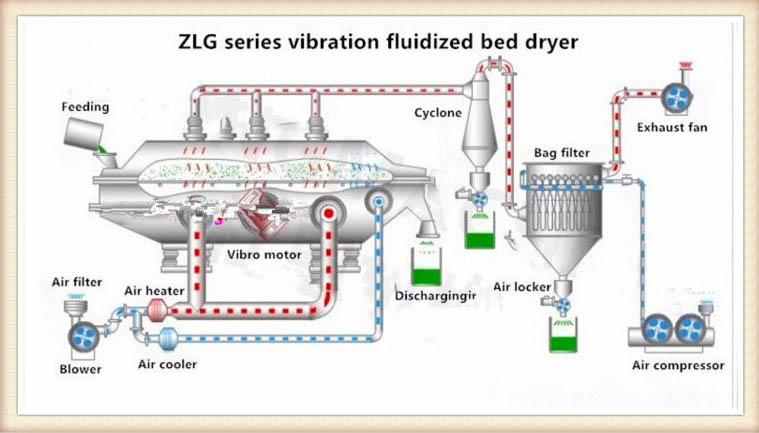 Vibrating fluid bed dryer for chemical powder
Working Principle
Vibration fluid bed is a new technology developed on the basis of static fluid bed. Mechanical vibration is added on the fluid bed. Wet material particles enter the air stream and form a fluid bed. The material is ejected due to exciting force. Vibrations of an air distributing plate incite the fluidization of material particles and the movement of material in the fluid bed. The fluid material contacts the hot air and at the same time carries on heat and mass transfer. The dried product is dischaged through the discharge port.
Characteristics
1. Uses the advanced vibrofluidization technology, the damage of dried material particle surface is small.
2. Steady movement, good adaptability.
3. Vibrations cause fluidization, the drying air flow rate is reduced, and a few particles are entrained.
4. The material residence time is consistent, product quality is uniform.
5. It is used for the drying of heat sensitive material in short time, such as, the surface water
drying of CUSO4·5H2O contained crystal water, MgSO4·7H2O.
Applicable scope
Can be used in dry or cooling process, applicable to the particle bulky or particles and not easy flow of irregular of products, or because to make particles less demanding and keep complete fluidization velocity of products and easy to bond, sensitive to temperature drying and contain materials gesso product surface water removal from.
Technical parameter
Model
Fluidized bed area
(M2)
Inlet air temperature
(oC)
Outlet air temperature
(oC)
Evaporation water capacity
(kg)
Motor
Model
Kw
ZLG3×0.30
0.9
70-140
40-70
20-35
ZDS31-6
0.8×2
ZLG4.5×0.30
1.35
70-140
40-70
35-50
ZDS31-6
0.8×2
ZLG4.5×0.45
2.025
70-140
40-70
50-70
ZDS32-6
1.1×2
ZLG4.5×0.60
2.7
70-140
40-70
70-90
ZDS32-6
1.1×2
ZLG6×0.45
2.7
70-140
40-70
80-100
ZDS41-6
1.5×2
ZLG6×0.60
3.6
70-140
40-70
100-130
ZDS41-6
1.5×2
ZLG6×0.75
4.5
70-140
40-70
120-140
ZDS42-6
2.2×2
ZLG6×0.9
5.4
70-140
40-70
140-170
ZDS42-6
2.2×2
ZLG7.5×0.60
4.5
70-140
40-70
130-150
ZDS42-6
2.2×2
ZLG7.5×0.75
5.625
70-140
40-70
150-180
ZDS51-6
3.0×2
ZLG7.5×0.9
6.75
70-140
40-70
160-210
ZDS51-6
3.0×2
ZLG7.5×1.2
9
70-140
40-70
200-260
ZDS51-6
3.0×2
General of applications
This machine adopts one pair of rotating grinding blade to grind form damp material into column-shape granule by stainless steel sieve cylinder which is provided for pelletize in next process.The machine can obtain different size granule by changing the stainless steel sieve.
It can process wet materials and get different size according to material and requirement.
WORKING PRINCIPLE:
Motor power is transmitted by the triangle belt-wheel to the gear box in the host, and distributed the power by the transmission parts in the gear box. Add raw material into feeding hopper, press it from above.
After mixing, the material is crowded into the feeding chute and forced outward extrusion by special blade. When the material is crowded into the gap between blade and screen mesh, the cutting knife will cut it into unify size.
Technical Parameters: 
| | |
| --- | --- |
|  Ouput |  150-250kg/hour ( flake shape), 50-100kg/hour ( granule shape) |
|  Granule size |  0.5-2mm |
|  Max pressure |  294Kn(30T) |
| Side sealing pressure |  9.8Kn |
| Feeding motor |  2.2Kw |
| Granulating Motor |  2.2Kw |
|  Compressing motor |  7.5Kw |
|  Feeding screw speed |  6-33 adjustable |
|  Compressing Wheel speed |  4-25 adjustable |
|  Dimension of compressing wheel |  240X100mm |
|  Weight ( approximately) |  2000Kg |
|  Main unit dimension |  1600X1000X2300mm |
|  Control cabinet dimension |  600X400X1300mm |
Usage
The machine is mainly suitable for pharmaceutical industry, foodstuff industry, solid drink industry and so on, It can make the stirred raw material qranuate the needed qanule. Especially, it is suitable for raw materials that have sticky adhesive.
 Features:
All parts contacted with raw material in this machine are made of stainless steel. Its appearance is beauty. Its discharge is automatic.Therefore it can avoid the damaged conditions caused manual. It is suit-able for in line production too.
Main technical patameters
| | | |
| --- | --- | --- |
| Size of milling knife(mm) | 300 | 400 |
| Diameter of granule(mm) | Φ2~2.2(It may be in accordance with the requirements of customers) | Φ1.2~3(It may be in accordance with the requirements of customers) |
| Overall dimesions(mm) | 700×540×1300 | 880×640×1300 |
| Power of motor(kw) | 3 | 4 |
| Weight(kg) | 350 | 400 |
| Production capacity(kg/h) | 100~200 | 140~400 |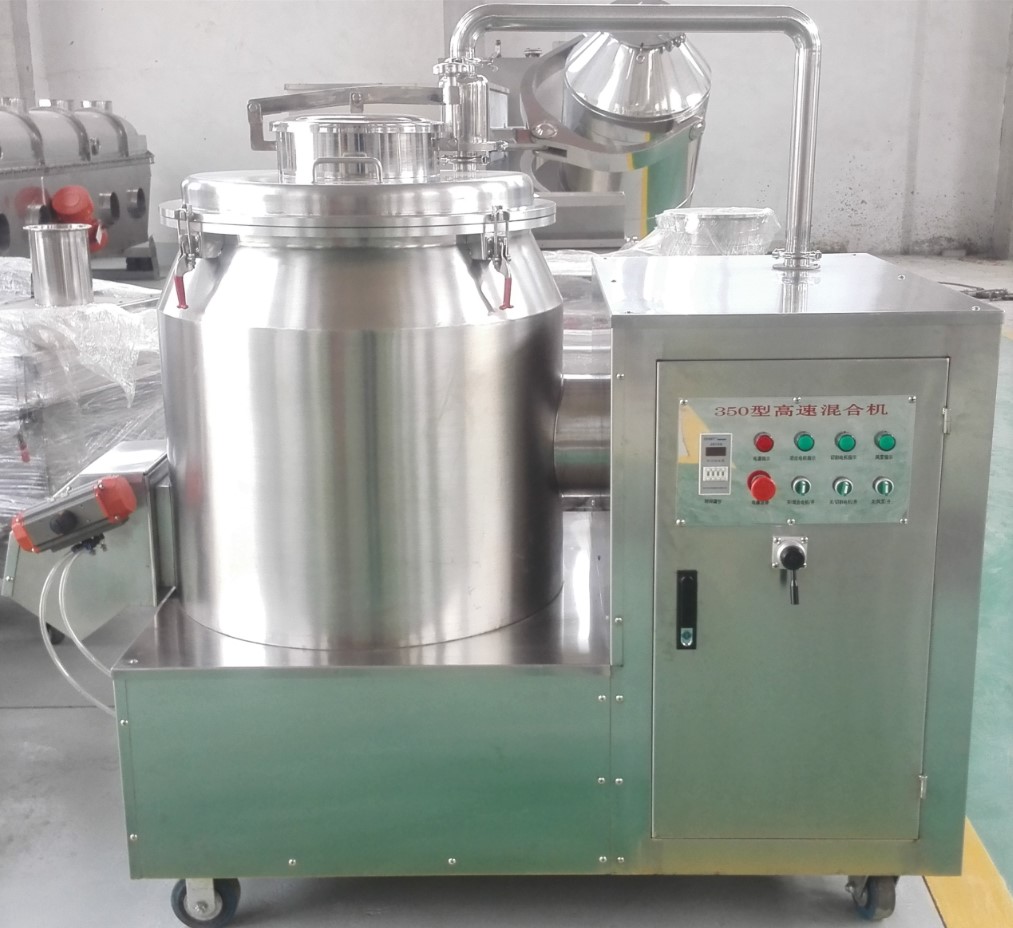 Principle 
LGH vertical type mixer is composed by bottom send material oars and high speed crushing oars,The bottom oars continuous send material to the top along the wall of the container.
High speed crushing oars break up the material completely make the material cycle like vortex, to finish the uniformly mixing in a short time.
Features of equipment
LGH vertical type high speed mixing machine is the newest type high-efficiency mixer of our factory, which collected advanced technique of domestic and oversea.The main features are as following:
1.The bottom material oars continuously send the material to the top through the centrifugal force. And the top material drop to the bottom at the centre, to make the material cycle like vortex.
2.High-speed crushing oars break up the bulk material completely which send by the bottom oars.
3.The material can mix uniformly in a short time because of the two oars high-speed revolution. The mixing speed and uniformity is the best one in all kinds of mixing machine in domestic market. The uniformity is 100% mix.
4.Start the discharging valve, discharging speed is very fast, and the machine is easy to clean.
5.The machine contact parts were made by stainless steel, during the mixing process, the material will not volatilize, metamorphic and lost.
6.The machine suits for different proportional dry and wet material to mix, especially suits for mixing of chicken essence, dissolved medicine, dissolved drink and so on.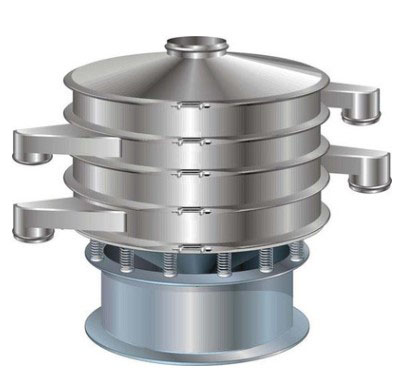 also called rotary vibro sifter,vibratory sieve.It can filter the liquid like waste water and waster oil etc,remove the impurity in the material,such as milk powder,rice,corn etc.Classify/grade the mixed powder into different size that you requirement.
Descriptions
Rotary charcoal/coal ultrasonic vibrating screen sifter machine have been adopted advanced techniques high sophisticated screening equipment. It consists of ultrasonic producer and vibrating screen. It's an important breakthrough in screening efficiency. This sieving machine adopts advanced intelligent vibrating ultrasonic controller and has solved many problems caused by single frequency, truly realizing the reasonable combination of ultrasonic function and vibration sieve.
Multi-functions as follows:
1. Classification
The multi-layer type can screen and separate five groups of different particles at the same time. It is suitable for dry materials.
2. Filtration
The mixture of solid and liquid can be separated effectively by single or multi-layer type into different grade materials.
3. Remove the impurities
The unit can quickly separate a few oversize or undersize particles from a quantity of materials
Cleaning system we use ultrasonice device  for Rotary charcoal/coal ultrasonic vibrating screen sifter machine
Spare parts
Kneader is an ideal equipment to knead, mix for polymerize material with high viscosity and elasto plastic. Each set of kneader has two pieces of sigma blades inside the w type mixing chamber. It is widely used to knead, mix, crush, disperse and re-polymerize high viscosity paste or elastoplastic materials, which can not be processed by the general powder mixers and liquid blenders. It can be used in industries required for high density kneading such as agrichemical,  chemical,  rubber,foodstuff and pharmaceutical preparation. The effect is better than mixer.  Kneader is a special mixing equipment with two blades.  Fast one usually rotates at a speed of 42 revolutions per minute, slow one at a speed of 28 revolutions per minute. Different speeds make mixing material get homogenate quickly.
Plant Engineering
- Plant design
- Process monitoring, control and automation
- Software development and real time application programming
- Engineering
- Machinery manufacturing
Project Management
- Project planning
- Construction site supervision and management
- Installation and testing of instrumentation and control systems
- Machinery and plant commissioning
- Employee training
- Support throughout production
Project Definition
- Feasibility and concept study
- Cost and Profitability calculations
- Timescale and resource planning
- Turnkey solution, plant upgrade and modernization solutions
Project Design
- Knowledgable engineers
- Using the latest technologies
- Exploiting the knowledge gained from hundreds of applications across any industries
- Leverage expertise from our experienced engineers and partners
---
Product detail pictures:


---
Related Product Guide:

---
"Quality initially, Honesty as base, Sincere company and mutual profit" is our idea, in order to create repeatedly and pursue the excellence for Top Quality China Medicine Jet Mill - WP-WDG System–Apply To Agrochemical Field – Qiangdi , The product will supply to all over the world, such as: Austria, Tajikistan, UAE, In order to make more people know our products and to enlarge our market, we have devoted a lot of attention to technical innovations and improvement, as well as replacement of equipment. Last but not the least, we also pay more attention to training our managerial personnel, technicians and workers in planned way.